Blogging about fantastic Vintage Poster Reproductions from the early 1900s to 1950s. You will find Vintage Travel Posters, Circus Posters, Old Magic and Famous Magician Posters, Vintage Pinup Girls, Old Classic Art Posters, and of course a great selection of Retro Movie Poster, Sci Fi Posters and Fabulous Old Magazine Cover Reproductions.
Saturday, March 22, 2014
Halsingborg Sweden - Vintage Travel Poster
Friday, March 14, 2014
Ski Notchland Crawford Notch - Vintage Skiing Poster
Vintage Nursing Poster - France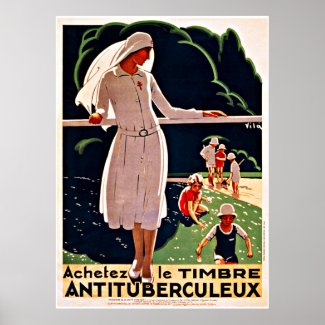 Nurse and Children - Vintage Health Posters
by
TimeArchive
Achetez le timbre antituberculeux. A nurse watching children playing outdoors. Translation of title: Buy the tuberculosis stamp. Created/Published in Paris, France, 1917. World War 1 propaganda poster.
1933 Chicago World's Fair - Vintage Poster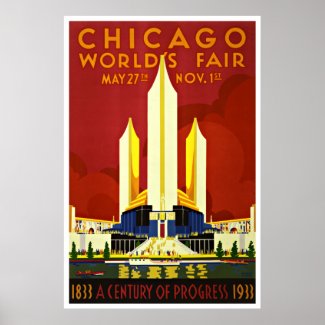 Chicago - Vintage Travel Posters
by
TimeArchive
F
irst a little history on World's Fair / Expo ...
The best-known 'first World Expo' was held in The Crystal Palace in Hyde Park, London, United Kingdom, in 1851, under the title "Great Exhibition of the Works of Industry of All Nations". The Great Exhibition, as it is often called, was an idea of Prince Albert, Queen Victoria's husband, and is usually considered as the first international exhibition of manufactured products. It influenced the development of several aspects of society, including art-and-design education, international trade and relations, and tourism.
N
ow history about the Chicago World's Fair, "1833 A Century of Progress 1933" ...
Century of Progress International Exposition was the name of a World's Fair held in Chicago from 1933 to 1934 to celebrate the city's centennial. The theme of the fair was "technological innovation". The fair's motto was "Science Finds, Industry Applies, Man Conforms"; its architectural symbol was the Sky Ride, a transporter bridge perpendicular to the shore on which one could ride from one side of the fair to the other. The fair buildings were of multi-colors, to create a "Rainbow City" as opposed to the "White City" of the World's Columbian Exposition. The buildings generally followed Moderne architecture in contrast to the neoclassical themes used at the 1893 fair. One famous feature of the fair were the performances of fan dancer Sally Rand. Other popular exhibits were the various auto manufacturers, the Midway (filled with nightclubs such as the Old Morocco, where future stars Judy Garland, The Cook Family Singers, and The Andrews Sisters performed), and a re-creation of important scenes from Chicago's history.
I
want to go to a World's Fair, when and where is the next Expo?
Expo 2015 will be held in Milan, Italy.
Edited excerpts from Wikipedia.
Posted by

Johnny Bismark
at 4:16 PM
No comments:

Labels: antique, art, chicago, deco, expo, old, Poster, posters, print, prints, retro, vintage, vintage art, vintage chicago posters, vintage posters, vintage travel posters, world's fair
Woman Reading in the Library - Vintage Poster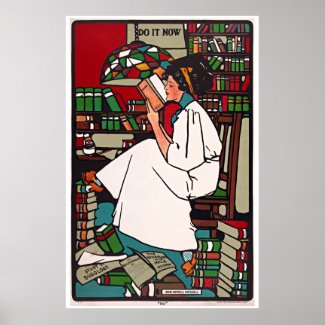 Woman Reading a Book Posters
by
TimeArchive
This is a new addition of our vintage poster collection, it is available in huge sizes for big room wall decor. Striking colors and a timeless subject, reading a book, "high-touch" comfort for our modern technology lifestyles. I think this print will be popular with book lovers, life-long readers, teachers, librarians, scholars, writers and our daughter who checked out arm loads of books at the local library on Saturdays.
This print / poster is available by following the links above to our Time Archive shop at Zazzle. Hope you like this print.
Monaco Monte Carlo - Vintage Travel Posters
Monte Carlo, translates into "Mount Charles", is situated at the base of the Maritime Alps along the French Riviera. Near the western end of the quarter is the world-famous Place du Casino, the gambling center which has made Monte Carlo into the elegant version of Las Vegas.
By the 1850s Monaco's reigning family was almost bankrupt (oops!); this was a result of the loss of two towns, Menton and Roquebrune, which had provided most of the principality's revenues with their lemon, orange and olive crops (the royals don't like to pick fruit). At the time, a number of small towns in Europe were growing prosperous from the establishment of casinos, notably in German towns such as Baden-Baden and Homburg. In 1856 Charles III of Monaco granted a concession to Napoleon Langlois and Albert Aubert to establish a sea-bathing facility for the treatment of various diseases, and to build a German-style casino in Monaco, and the rest is just history.
Many thanks to Wikipedia for the quick history lesson.
New just published ... Cattolica Italy - Vintage Travel Poster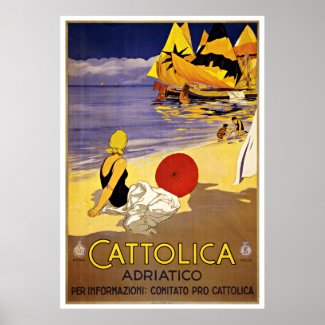 Cattolica is a small town in Italy with a rich history, Archaeological excavations show that the area was already settled in Roman times. Early on Cattolica became a popular resting place for pilgrims who traveled the Bologna-Ancona-Rome route, on their way to the sanctuary of Loreto or to St. Peter's in Rome to worship. Growing more and more in popularity, in the 1500s it had more than twenty taverns and inns. In second half of the 19th century the fishing industry became relevant to the economy of the town. One of the first famous visitors to Cattolica's beach was Lucien Bonaparte, brother of the French Emperor, who preferred it to the noisy Rimini, in 1823. The town became an independent commune in 1896. After the end of World War I the tourism industry became predominant, this poster was an advertisement promoting tourism and travel to Cattolica.
To purchase vintage travel posters, just follow the link to our Time Archive Shop at Zazzle.