New just published ... Cattolica Italy - Vintage Travel Poster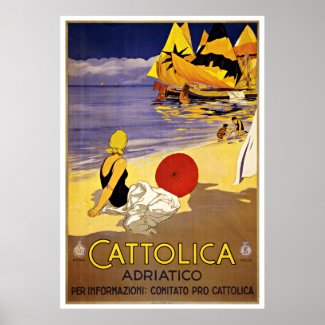 Cattolica is a small town in Italy with a rich history, Archaeological excavations show that the area was already settled in Roman times. Early on Cattolica became a popular resting place for pilgrims who traveled the Bologna-Ancona-Rome route, on their way to the sanctuary of Loreto or to St. Peter's in Rome to worship. Growing more and more in popularity, in the 1500s it had more than twenty taverns and inns. In second half of the 19th century the fishing industry became relevant to the economy of the town. One of the first famous visitors to Cattolica's beach was Lucien Bonaparte, brother of the French Emperor, who preferred it to the noisy Rimini, in 1823. The town became an independent commune in 1896. After the end of World War I the tourism industry became predominant, this poster was an advertisement promoting tourism and travel to Cattolica.
To purchase vintage travel posters, just follow the link to our Time Archive Shop at Zazzle.