1933 Chicago World's Fair - Vintage Poster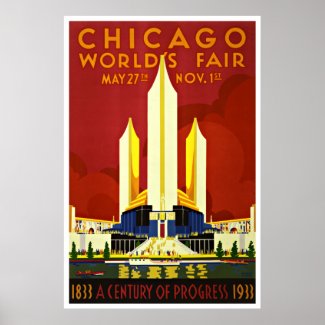 Chicago - Vintage Travel Posters
by
TimeArchive
F
irst a little history on World's Fair / Expo ...
The best-known 'first World Expo' was held in The Crystal Palace in Hyde Park, London, United Kingdom, in 1851, under the title "Great Exhibition of the Works of Industry of All Nations". The Great Exhibition, as it is often called, was an idea of Prince Albert, Queen Victoria's husband, and is usually considered as the first international exhibition of manufactured products. It influenced the development of several aspects of society, including art-and-design education, international trade and relations, and tourism.
N
ow history about the Chicago World's Fair, "1833 A Century of Progress 1933" ...
Century of Progress International Exposition was the name of a World's Fair held in Chicago from 1933 to 1934 to celebrate the city's centennial. The theme of the fair was "technological innovation". The fair's motto was "Science Finds, Industry Applies, Man Conforms"; its architectural symbol was the Sky Ride, a transporter bridge perpendicular to the shore on which one could ride from one side of the fair to the other. The fair buildings were of multi-colors, to create a "Rainbow City" as opposed to the "White City" of the World's Columbian Exposition. The buildings generally followed Moderne architecture in contrast to the neoclassical themes used at the 1893 fair. One famous feature of the fair were the performances of fan dancer Sally Rand. Other popular exhibits were the various auto manufacturers, the Midway (filled with nightclubs such as the Old Morocco, where future stars Judy Garland, The Cook Family Singers, and The Andrews Sisters performed), and a re-creation of important scenes from Chicago's history.
I
want to go to a World's Fair, when and where is the next Expo?
Expo 2015 will be held in Milan, Italy.
Edited excerpts from Wikipedia.